Nominations Now Open for the Australian Winner of the International Devil's Dust Award
This year we are joining the international anti-asbestos campaigners and awarding an Australian Devil's Dust Award. We are calling on our members and the general public to nominate worthy recipients, i.e. companies, organisations, individuals who have demonstrated gross negligence, uncaring behaviour to sufferers, or those who benefit from silence, by ignoring the suffering.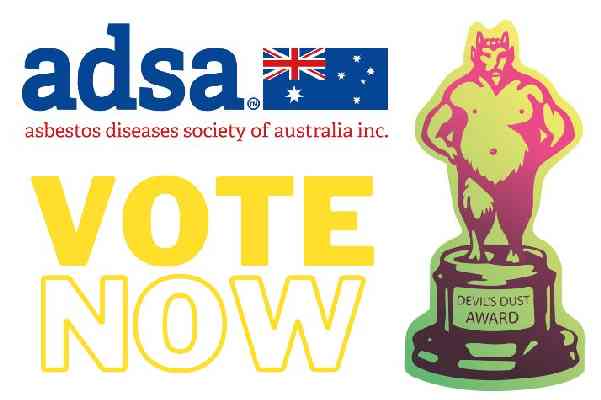 WHO DO YOU NOMINATE FOR AUSTRALIA'S INAUGURAL DEVIL'S DUST AWARD?
{"name":"Nominations Now Open for the Australian Winner of the International Devil's Dust Award", "url":"https://www.poll-maker.com/QMUQRYE1X","txt":"This year we are joining the international anti-asbestos campaigners and awarding an Australian Devil's Dust Award. We are calling on our members and the general public to nominate worthy recipients, i.e. companies, organisations, individuals who have demonstrated gross negligence, uncaring behaviour to sufferers, or those who benefit from silence, by ignoring the suffering. WHO DO YOU NOMINATE FOR AUSTRALIA'S INAUGURAL DEVIL'S DUST AWARD?","img":"https://www.poll-maker.com/3012/images/ogquiz.png"}